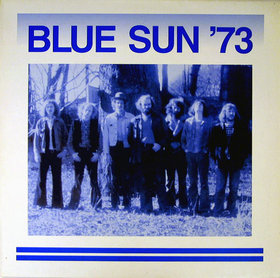 Blue Sun is one the most missed and best remembered 1970's groups from Denmark today. They formed in Copenhagen in 1969. They were a hippy-group with musical roots in jazz-rock and avant-garde. They were also one of the many bands to be spotted by Spectator Records (on which they released their first album). After releasing their first album "Peace Be Unto You" they were signed by EMI (on which they released a self-titled album). They later released their third album on "It's All Money Johnny" the Danish label Genlyd under the name "Jytte Pilloni & Blue Sun". In 1992 this record was released on Danish Music Archives and they have also had a "Live 1970" record released by Karma Music (a Danish label run by TømrerClaus - a musician who has been involved with a lot of the Danish music scene in the 1970's).
The band's personnel was Dale Smith (vocals, percussion), Niels Pontoppidan (guitar), Jan Kaspersen (piano), Søren Berggreen (alto saxophone, flute, harmonica, percussion), Jesper Zeuthen (tenor saxopohne), Poul Ehlers (bass, doublebass) and Bo Jacobsen (drums). The band was so alive that no line-up lasted for a longer period of time. The only constant member was Poul Ehlers.
This is the album that was released in 1992 containing live recordings from '73. It is a great record with lots of soul to the music. It is very soft at some point and easy to listen to, but it also has its aspects of heaviness. The album is mostly dominated by saxophone, the other instruments will eventually visit the listener's ears and leave a smooth bassline or guitarlick in the listener's head. The other instruments than the saxophones are well-balanced and really good (not that the saxophones are not good). The few songs containing vocals features a very soft, soulful and peaceful vocal that fits the record perfectly.
1. Gryets Vinger (the Wings of Dawn)
2. Blue Sun
3. Tåreperseren (the Tear-jerker)
4. Efterår (Autumn)
5. Søn Af Solen (Son of the Sun)
6. Bladene Falder (The Leaves Fall)
7. Ivalo & Liza
8. Solhverv (Solstice)
Bitrate: 256kbps
Link